InMotion Hosting may quite possibly be among the top 5 web hosting companies on the market. Their incredible service has helped define the quality standards that now keep consumers interested in web hosting companies around the world. Throughout their history, InMotion Hosting has not only set the bar high but have constantly striven to overshadow their own records in web hosting. Thus, InMotion Hosting may be the only completely professional company on the market. Up next, we'll be looking at their features and benefits in this InMotion Hosting review. And the reasons why someone looking for good web hosting may choose them as a provider.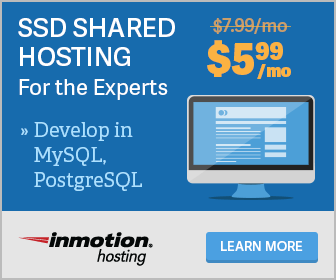 InMotion Hosting Service Overview
All InMotion Hosting servers are built on the Unix and/or the Linux operating systems. This makes sure that all of their services are delivered in a completely professional way. Upon registration, a user will be thrilled to see the great speed of their web hosting package. That's even if that user chooses to subscribe to the cheapest of the cheap of these hosting solutions.
Their strong points stem from both the top-of-the-line hardware that they provide their customers, as well as from their professionally trained personnel.They underline the fact that all of their employees and experts must have at least 4 years of experience working in the specific market field before applying for a position at InMotion. Furthermore, InMotion says that the average expertise for their office is over 10 years. This should tell us that, besides being kings in web hosting, the company also has high work standards and ethics, preferring to build loyalty in both employees and in their patrons.

Pricing Information
In this section of our InMotion Hosting review, we will detail the features included in each of their three main plans. Apart from these three business hosting plans by InMotion, they also have a VPS Hosting plan which includes free SSD storage, a Dedicated Servers plan that also includes free SSD, as well as the fourth plan, Reseller hosting, also with free SSD, cPanel, and WHMCS. For each of these three InMotion Hosting plans there are three differently priced subplans, just as with the Business Hosting package.
| | | | | | | |
| --- | --- | --- | --- | --- | --- | --- |
| Package | Price | Disk Space and Type | Parked Domains | Sub Domains | MySQL Databases | Websites |
| Business Hosting Launch | $5.99/month | Unlimited | 6 | 25 | 2 | 2 |
| Business Hosting Power | $7.99/month | Unlimited | 26 | 100 | 50 | 6 |
| Business Hosting Pro | $13.99/month | Unlimited | Unlimited | Unlimited | Unlimited | Unlimited |
InMotion do offer a money back guarantee for all clients that have purchased a subscription over the previous 90 days prior to the moment the customer wants to abandon the contract. Unlike other services, reviews of InMotion mention that the process went smoothly and without any problems with account billing and payments.
InMotion Security & Risk
InMotion is renowned for its security and we will detail why in this section of our InMotion Hosting review. Its services hold an A+ rating from the highest authority on business-consumer relations, BBB or the Better Business Bureau. This agency not only ranks integrity, performance, and customer satisfaction in the US but also in Canada. Therefore, one may deduce that the InMotion service is up to par with the latest developments in internet security laws both for the US and for its northern neighbor.


Usability & User Friendliness
In this section of the InMotion Hosting review, we will touch upon their user friendliness and their control panel options. Most users praise the amount of technical information given by InMotion's online guides. They also report that they only needed to contact customer support as a last resort.
For their control panel, InMotion clients have several options. Which generally depend on the type of subscription that they choose, but also on their personal preference. Business Class package subscribers will receive a web hosting service which they can customize through cPanel 11. cPanel includes just about everything you may need with your web hosting plan. The basic-but-great Cpanel 11 comes with the VPS InMotion Hosting login package. However, this one features WHM so if facilitates usage by multiple users at the same time.
Customer Support and Additional Info
InMotion Hosting reviews are so positive, we actually had to look to find the slightest dose of complaint. Still, the overwhelmingly positive reviews should tell you a lot about how InMotion likes to do business. InMotion has a diligent support team always at your disposal. You can reach them through several means of communication, like telephone, their Support Center, Community Support or through social media.
Because of their impeccable 24/7 call center, they can offer support to all of their clients at any time of day or night. The support can take the form of online support, call-in support, or simple advice through the InMotion help center.
InMotion Hosting Service Overall Rating
What we like
InMotion Hosting offers good uptime on their websites. Their WordPress options are really top-of-the-line and all of their plans offer unlimited email accounts. One other great feature of InMotion is the that they guarantee you will receive your money back within an extended trial period.
What we don't like
As with every hosting company, there are pros and cons. There certainly are many advantages to InMotion; however, our biggest complaint would be that their basic website creation tool may seem a bit outdated to some. On top of that, all of their servers have a Linux base. So users partial to Windows server computers are out of luck.
Rating
Web Hosting Package: 4/5
Security and Risk: 5/5
Usability & User Friendliness: 3.5/5
Pricing: 3/5
Customer Support: 5/5
InMotion Hosting Alternatives
There aren't too many web hosting alternatives that match the level of professionalism of InMotion Hosting. Out of all the bundle of web hosting services, we wholeheartedly recommend just a few: Hostgator, Homestead, Godaddy, Arvixe, and IxWeb. Each of the companies can match the features presented in this InMotion Hosting review.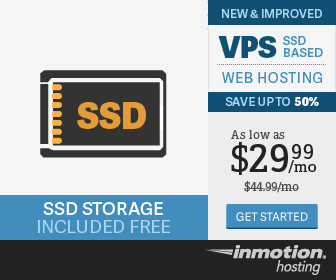 Verdict
InMotion Hosting features some of the best services on the whole web hosting market. We're proud to have put together this InMotion Hosting review. And anxiously expect any other questions about InMotion that you may have.
Have you had experience with InMotion? Let us know how it went! We'd be happy to find out more about how InMotion Hosting helped you run your business.